Hey Paulette - I Really Do Love Penelope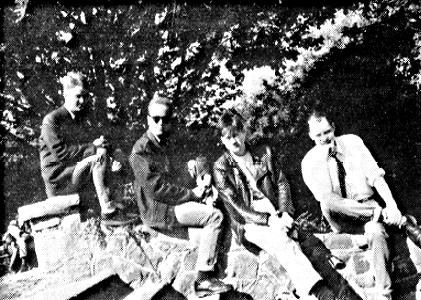 Hey Paulette were formed, in Dublin, in 1987 by Eamonn Davis ( vocals and guitar ), Derrick Dalton ( Guitar ) and Colm Fitzpatrick ( bass ). Drummers were always a problem and, though he never actually joined the band, Darren Nolan became their permenent " temporary" drummer. This line-up was augmented, towards the end of their career by the ex-Stars Of Heaven guitarist Stan Erraught.
Ignored by most of the press and music business, they put out three singles on their own Mickey Rourke's Fridge:
Commonplace/ I don't want to be a male Bardot - 7" single
Mickey Rourke's Fridge Presents E.P. - 7" E.P. featuring My half of the pillow by Hey Paulette and Happy to be here by The Twigs ( the same band but with Derrick singing. )
I really do love Penelope - 12" single
Few copies of these survive but Derrick just found 500 copies of I really do love Penelope, in his parents attic, should there be a sudden rush for these classic recordings.
Their debut single got them the attention of John Peel who played it regularly and gave the band a session, after the playing of which, he memorably stated ( memorable to the band anyway ) that he thought there would be " a big yes to Hey Paulette.) Unfortunately, there wasn't and the band succumbed to the usual personal and musical differences, sometime in 1991.
Derrick went on to play bass with The Mexican Pets. Eamonn, Colm and Stan went on to form The Sewing Room, who put out two albums on the Dead Elvis label (And Nico and Sympathy For The Dishevelled). Derrick and Eamonn now are currently in crumb (http://www.crumbmusic.com)with Dez from The Sewing Room and are recoding their debut album which will be out early 2005